About Cloud licensing
All licensing and billing is done by Atlassian. That means they handle payments for:
Jira, Confluence, Bitbucket, etc. both for Server and Cloud
Apps (add-ons, plugins) for all Atlassian software
If you are Jira admin, you can get the quote or order directly on the Atlassian.com.
Also, you can always contact Atlassian Support to get help with quotes and orders.
And last, but not least option is contacting Colined Support.
Evaluation of Cloud Apps
Accordning to Atlassian Support, on monthly plan you can trial apps in Cloud one payment peroid for free:
Atlassian Cloud trials can be extended to a total of 37 days - 30 days on top of the initial 7-day trial.
On the on annual payments you are limited with 30 days from the evaluation start. Then you need to pay the quote for the rest of the annual period.
Pivot Report pricing
Pricing of all Jira apps depends on the numbers of users in your instance, not actual app users. This is defined by Atlassian, and can't be changed by Colined.
You can find pricing information for the Pivot Report in the Marketplace.
Please note, that even if you are on a Free Plan for Jira, you still need to pay for apps.
Pivot Report Cloud discounts
Yes, it's possible to get a reasonable discount. Please contact us to discuss it.
What happens if the license gets expired
After your evaluation or paid period ends, you have 14 days to make the payment. Otherwise, your access to Pivot Report will be blocked automatically, and you'll get a message like this:
No worries though. Your data is safe, it's not erased. You need to either make the payment or contact us to get an extension: support@colined.com.
Another thing to keep in mind - it takes Atlassian up to 24 hours to update license and transaction data. Sometimes data is not updated for several days due to Marketplace incidents. In this case please write directly to our support email about details of your case, and we'll help you out.
How to check license status
This one is surprisingly tricky. Atlassian splits Cloud licenses status into two parts:
existence of the installation/license for Apps Manager
status of the license for actual Billing
First one can be checked in the Apps Manager. Just go to Jira Settings > Manage Apps > Pivot Report section. There will be something like that:

This interface shows only if you have the license installed or not. No information about maintenance/subscription end date. That commonly results into misunderstanding since a valid (installed) license can be expired, which makes it not valid in reality.
Information about apps' subscription end dates and prices can be found in the Billing section. Please note, that access to this section may be restricted by your organization admins. E.g. you can be Jira admin, who can access Apps Mananegent, but have no access to the Billing. Yes, it's that confusing.
Click on Manage Subscriptions in the side bar menu. You'll see the list of all apps and Atlassian products you're using:
Scroll down to see the list of all Cloud apps you have in your instance:
Here you go: all apps, actual subscription end data and estimated renewal cost. Please note that number of app's users matches number of active users in your Jira. But the price will be calculated based on your tier, which is the number of all users you can have in your Jira.
Types of subscription
There are two types of subscription for Jira and apps: monthly and annual. Annual allows you to save some money, since you're paying for 10 months instead of 12. But on the other hand you are paying for a fixed user count. If this number will increase, you will need to upgrade your tier. If the number decreases, you can't get your money back.
Monthly subscription purchase
By default, you shouldn't need to do anything here, since Atlassian charges you automatically with all payments for your instance.
But sometimes credit card data gets expired or doesn't even exists for Free plans, so it's possible you skip the payment. Again, no worries. Just go to Billing section as it's descdescribed in the previous section.
Annual subscription purchase
Typically on the annual plan you don't have a Purchase/Buy button for the app in the Jira Settings > Manage Apps > Pivot Report section. In this case you have three options to purchase the license.
Option #1. Purchase the license using Atlassian website
Just open the following link: https://www.atlassian.com/purchase/addon/biz.epicreport.epicreports.ondemand
Click on "Add it" button and select the instance you want to install Pivot Report on:
Option #2. Buy the license at My Atlassian
That's is another easy one. Just go to my.atlassian.com and navigate to the Pivot Report like this: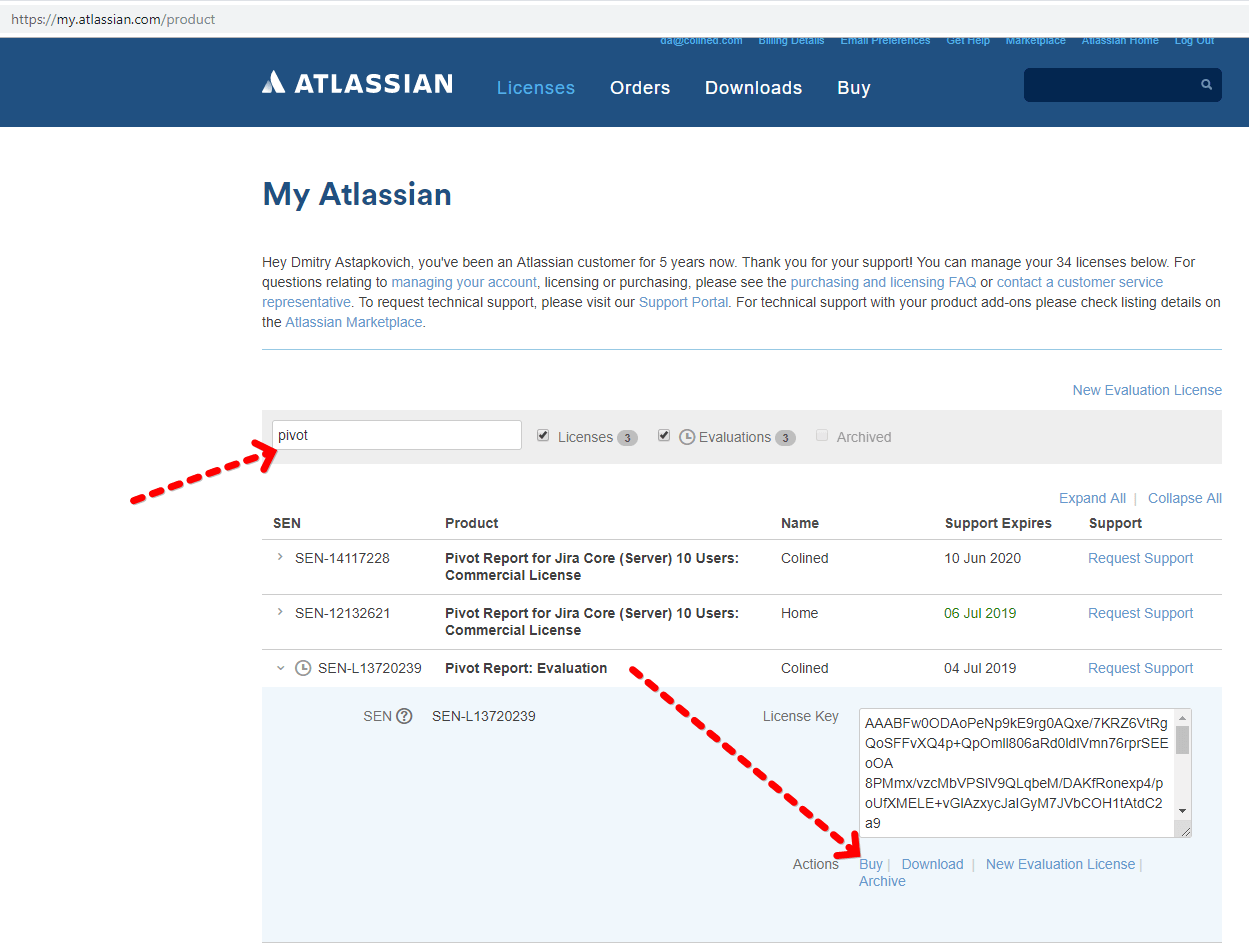 Click on the Buy button and follow the instructions on the screen.
Option #3. Request quote from Atlassian Sales
If the first way didn't work out for some reason, you need to contact Atlassian Sales Support: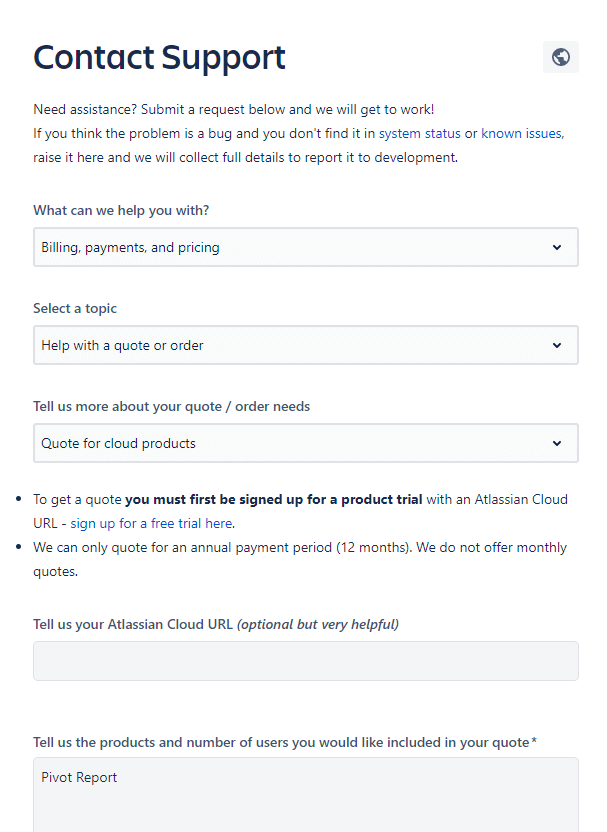 They typically answer within a working day. If you've already tried that and haven't succeed, please let us know.
Expired licenses blocking
Atlassian allows up to 14 days to make the payment after the paid or evaluation period ends. That may be helpful in cases when you need to change billing details or attach another card for the payment.